Soumak: The one and only
A Soumak is a hand-woven single-sided non-fluff rug made of virgin wool. Soumak rugs were made in Dagestan for centuries. And they still are – by just a few consummate craftswomen who inherited the rug-weaving knowledge through generations. Weaving Soumaks is so painstaking that each masterpiece of a rug can take months to be made, for example, a medium-sized rug is woven for about six months. Thus, most of the Soumaks on the market are vintage, discovered by experts in different parts of Dagestan.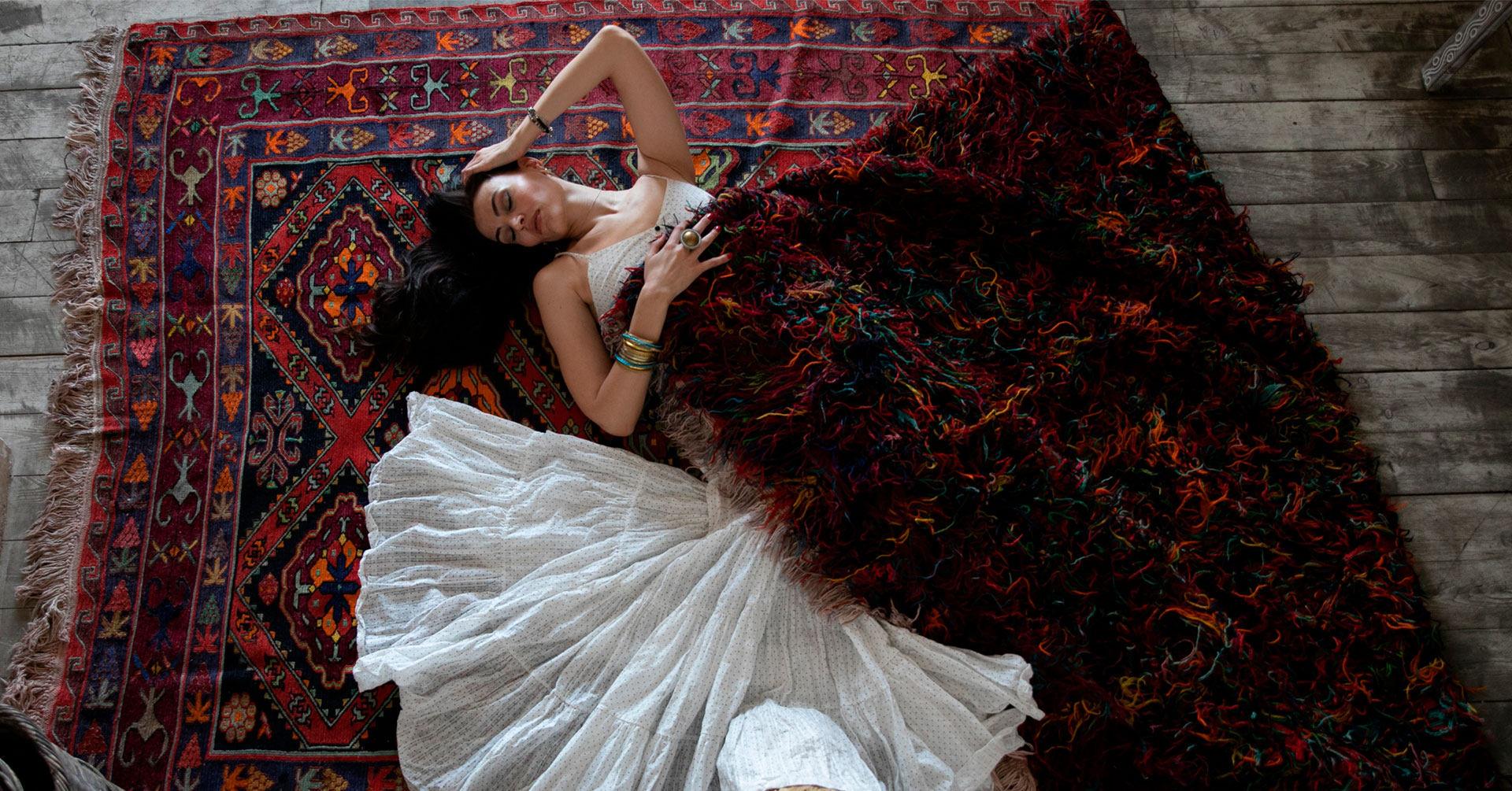 What is the appeal of an authentic Soumak?
1. This is an absolutely natural product. Soumaks are never synthetic, so they do not come cheap. Of course, inexpensive imitations that can look quite decent are also available.
2. Because of the special weaving technique, these rugs are relatively low-weight, durable and wear-resistant.
3. The Soumak has a rugged back with the loose ends of weft threads of different colours left uncut after weaving patterns. These threads make Soumaks dense, soft and radiating gentle warmth. This particular feature of a Dagestan rug is impossible to fake.

Read like a book
The first moment you see a Soumak, mesmerizing landscapes of Dagestan come through. Its blue sea, turbulent rivers and waterfalls, lush forests and heavenly gardens, mountains that touch the sky and endless meadows with ample flocks of sheep grazing upon them. The exuberant nature of this land has generously poured onto traditional rugs with its rich, superb colours.
In love at first sight? Hold on – this is just the beginning! Each Soumak is a protective charm. The ornaments on its front face carry signs of prosperity, luck and happiness. Every little 'squiggle' has a special meaning. Can you see the letter S? This symbolises a dragon or a snake that will protect your home. Can you see a scorpion? It will become your fervent protector. A rose will grant you love, a pomegranate – wealth, a rooster – inexhaustible energy, an eagle – power and strength. Examine it, read it, make guesses – and know your home is now adorned with not just an exquisite accessory worthy of a personal exhibition in a museum but with a powerful family talisman.
A Soumak is just perfect for the interior. It will become the centre of any composition, making all your furnishings 'adjust' to it, but it is well worth it. Treat your Soumak with love (luckily, it does not require much care) – and it will reciprocate with warmth, comfort and inspiration.